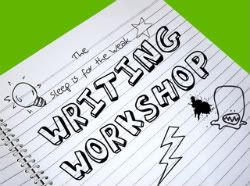 These are the voices I can't get out of my head (and just to clarify, for anyone who knows me, these are the voices in
my
head, not Adrian's....)
Voice 1: It's time to start thinking about the 3rd child. You always said you'd have 3 children and Theo's nearly 2 now and you don't want too big a gap between them. Time to start planning...
Voice 2: Quit your job! Quit your job!
Voice 1: But if you quit your job, you won't be able to buy No Added Sugar T-shirts and go out for lunch on a whim. And you will not get any maternity pay and will struggle to pay your childcare costs when you go back to university.
Voice 3: Ah yes, university. Change of career, a full time student again for 2 years, not earning any money the whole time. Doing something for yourself. Do-able with 2 children. How about with 3?
Voice 1: Okay, but what will you look back at and regret? Waiting a few more years to re-train or not having another child?
Voice 3: You might regret the 3rd child you know. Don't forget how it feels when Theo refuses to get in his car seat so you are late leaving for work. Or when Freyja whines and whines and whines until you snap and then feel terrible.
Voice 1: I don't think you would ever regret a child. Think about how they make you laugh. How Theo's face lights up when he sees you in the morning. How Freyja tells you you are her best friend. How your arms ache a little at the end of each working day because you want to get home and cuddle them.
Voice 2: Quit your job! Quit your job!
Voice 3: Think about the practicalities. More cost, more time, more stress, not enough attention to go around, less for each child. The sleepless nights. Remember the nights...
Voice 1: But you always wanted 3 children. Your family doesn't feel quite complete. And these kids certainly don't need more stuff.
Voice 3: Well, you'll be able to re-train sooner and it will be less stressful with only two children, both financially and practically. How are you going to afford full time child care for a baby while you study? Will you even want to study full time with a young baby?
Voice 2: Quit your job! Quit your job!
Voice 3: Actually, you know, you

could

quit your job now if you don't have any more children....
Voice 1: But something will always be missing...
Voice 3: Things are just getting easier now. You can leave the kids with the grandparents. You have a spare bedroom! Think about how they drive you mad sometimes...
Voice 1: But....
Voice 2: Quit your job! Quit your job!
Where will I be at the end of this year? Which voice will shout loudest?
Written for Sleep is for the Weak's Writing Workshop No 11